Software and user interface is simple intuitive and fully integrated with wireless connectivity
Nudge button enabling precise and simple positioning of the Rover System
Tusks on the head incorporate collimation
Counterpoise Arm which is self-balancing
Ergoknobs that responds to the lightest of touch
Wheelie bar so it is easy to raise over bumps
High-Precision
When your space, workflow, and terrain are unpredictable, the Micro-X Rover is your solution. Utilizing our unique Carbon Nanotube Technology, the Rover combines lightweight maneuverability with high precision imaging to deliver critical diagnostics in the toughest situations your hospital, ER, urgent care, or other medical facilities may face.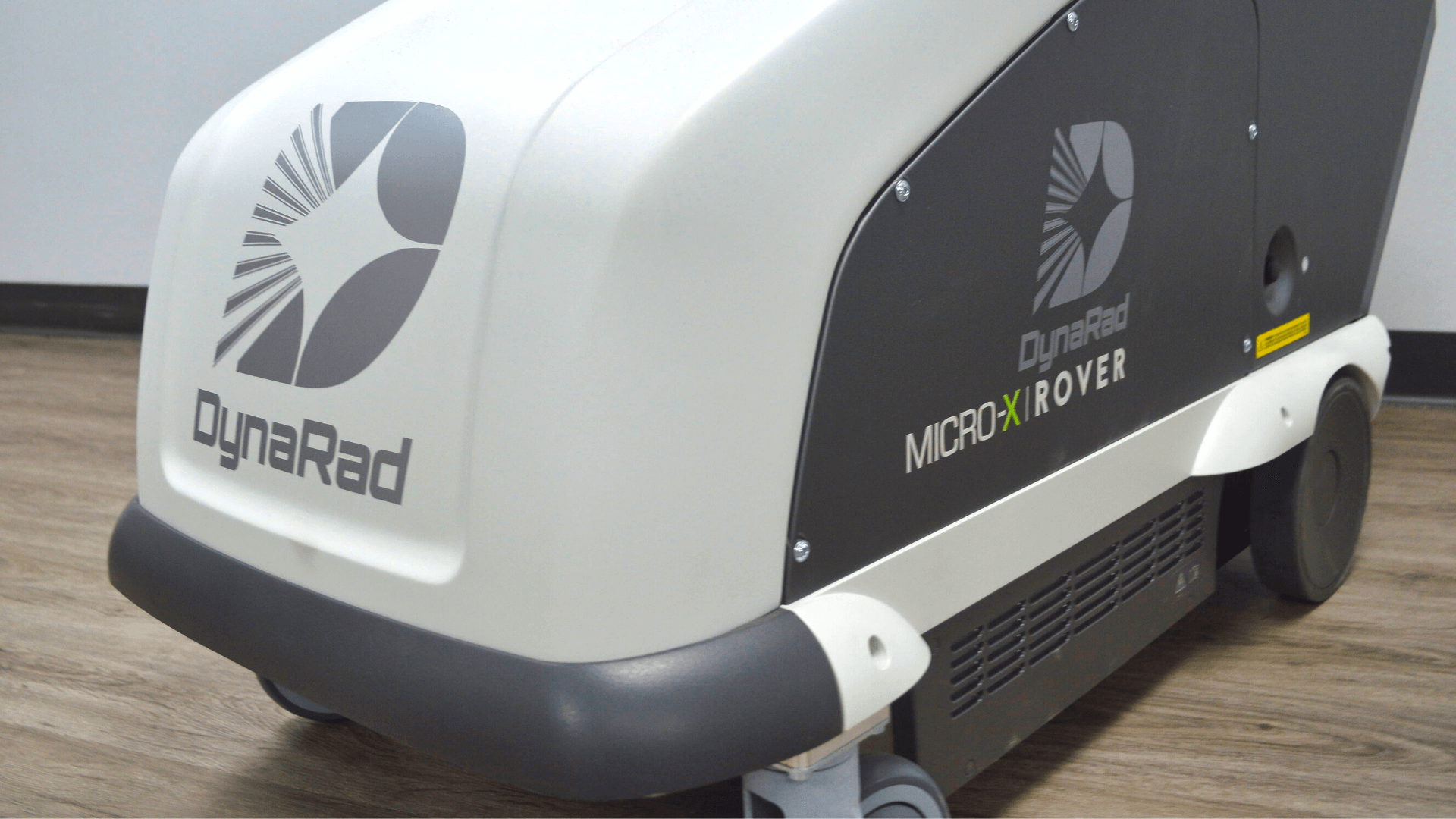 Small and compact
Lightweight
Fast and efficient
Reliable through simplicity
Precisely controlled
Hospital-Grade Power
DynaRad mobile x-ray units are versatile. By ensuring fast deployment while only weighing 209 lbs, the Rover delivers hospital-grade power to facilities of all types and sizes. This machine is agile and flexible with key design features to make optimal positioning easier for better patient imaging outcomes.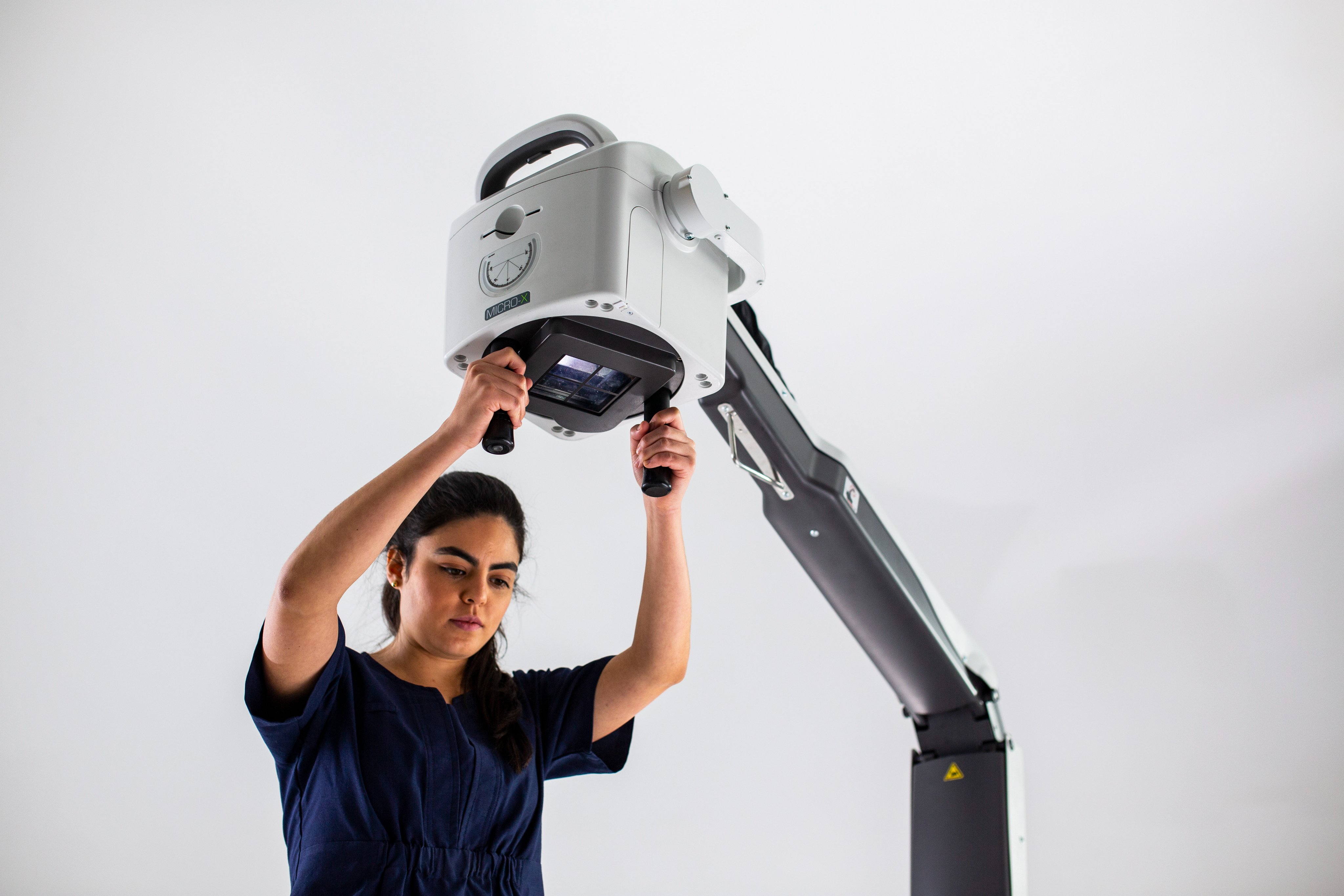 Height: 1300 mm (51.2 in) – head in docked/transport position exc. cable
Width Wheel base: 583 mm (22.9 in)
Main chassis: 500mm (19.7 in)
Length: 1371 mm (53.9 in) – head in docked/transport position
Weight (standard version): 209 lbs (95 kg)
Drive handle height: 1000 mm (39.37 in)
Temperature range: +10° C to +30° C
Relative humidity range: 30% to 60%
Atmospheric pressure range: 70 kPa to 106 kPa
Number of batteries: 5
Type: LiFePO4 (also called LFP for Lithium Ferro-Phosphate)
Nominal voltage: 14.4 Vdc each
total battery bank of 72 Vdc
Capacity: 7.5 Ah each
Charge time: 1.5 hrs to fully charged
Charge power requirements: 100 to 240 Vac
50/60 Hz / 11 A to 5.5 A (110 W max.)
Battery LED Light indicator displays battery charge level
Scintillator: Csi: Ti (Cesium)
Filed of View: 17"x17" (43cm x 43cm) / 14"x17" (36cm x 43cm) / 10"x12" (25cm x 30cm)
Pixel Array: 3072 x 3072 / 2560 x 3072 / 1755 x 2136
Pixel Size: 139 micron
A/D Conversion: 16 bit
kVp Range: 40-150
Dimensions: 18.1" x 18.1" x 0.6" / 15.1" x 18.1" x 0.6" / 11.02" x 13.06" x 0.6"
Weight (without battery): 3.3kg (7.28lbs) / 2.8kg (6.18lbs) / 2.1kg (4.6lbs)
Data interface WiFi: 802.11n/ac (5GHz) / WiFi 802.11n/ac (5GHz) / WiFi 802.11n/ac (5GHz)
Battery: (Two incl.) Lithium
Polymer: 1600 images for 8 hours
Total System Net Weight – 69 lbs. (31.3 kg)
Horizontal Storage Position (with front leg folded) – 25.25″W / 2.7″L / 26.78″H
Vertical Storage Position – 25.25″W / 52.25″H / 26.78″